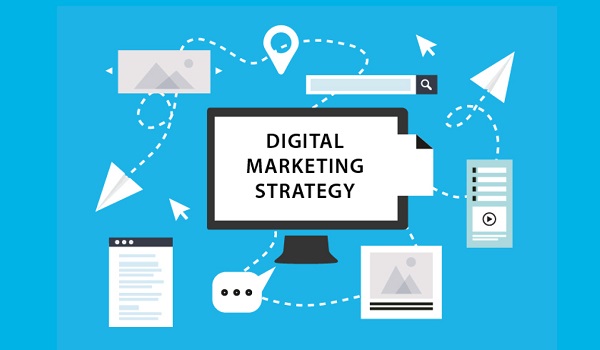 The method of achieving marketing objectives through the use of digital technologies and media is known as digital marketing. In simpler words, it is a marketing approach that uses the internet to raise brand awareness. Digital marketing gives you new options to target your audience, gives you the visibility you need, and ensures that your brand is well-known.
For the past few years, the marketing world has changed every few months. Companies that have typically done their marketing find it difficult to stay current with the most effective approaches. A flexible but structured digital marketing strategy, on the other hand, is one of the most effective strategies to get your organization on pace to meet sales targets.
Reasons to have a digital marketing strategy?
You have no idea what your strengths are
A digital marketing strategy plan is one of the key elements to figuring out what channels reach your potential customers, as well as discovering which channels will be a waste of money for you. Because the internet marketplace differs significantly from traditional marketing, conducting this research is essential to avoid wasting money on every new bright area to advertise.
You have no idea where you're going
Companies without a digital marketing strategy don't have a clear aim in mind for what they want to achieve on the internet in terms of attracting new clients and improving relationships with existing ones.
Another disadvantage of not having a digital strategy is that you won't be able to track how well you're accomplishing the objectives you established for your company. To begin, you'll need to spend some time outlining your SMART digital marketing goals.
The online value proposition may be different
What makes your product or service stand out in traditional advertising and marketing may have nothing to do with it online. This strategic thinking will assist you in revising and tweaking your value proposition to match the market you want to penetrate.
Marketing that is more targeted
No other strategy can provide you with as precise targeting and measurement as digital marketing. You can select your ideal audience and interact with them in a variety of ways, depending on their values.
You'll be able to reach a more targeted audience and find more potential consumers this way. You won't have to spend thousands on a single ad this way. You can even keep running adverts indefinitely.
As a result, you can easily alter those adverts to appeal to various demographics. With any other method of a digital marketing strategy plan, you don't have this level of control over who sees your ad.
Money will be less wasted
You want to be as lean and effective as possible, and the digital marketing strategy process often exposes that certain marketing methods are wasteful or just not optimal. The time required to properly digitally transform is well worth the waste reduction.
When opportunities arise, you'll be able to pivot more quickly
A digital marketing strategy plan considers that significant changes will occur in the future and creates preparations for how resources will be reallocated in response to analytics data regularly. A digital strategy establishes an agile culture, recognizing that new opportunities come and go swiftly and must be seized.
Time for review and revision is part of a great strategy
Upper management should expect each new digital marketing trial to be thoroughly studied when they expect results. This necessitates time to analyze and adjust the strategy in light of the actual data, and developing a complete strategy necessitates this time.
You believe that customers respond to online marketing in the same way that they do to traditional marketing
Knowing your clients and their online activities is a critical component of your digital marketing strategy plan. If you think that people will respond to traditional marketing in the same way that they respond to traditional marketing, you may be ignoring or alienating a large segment of the market.
You shouldn't need much convincing now about the importance of marketing in the digital age, and a solid digital marketing strategy is the key to realizing that value. This is why internet marketing is so important for your organization nowadays.