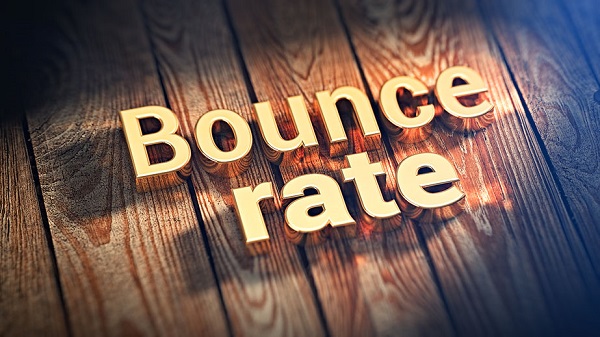 Even if you're new to the SEO world, you've almost likely heard of the term "bounce rate" and know that a high bounce rate is bad and a low bounce rate is good. Even among experienced marketers, the Google Analytics bounce rate is one of the most misunderstood KPIs in SEO.
We'll attempt to make it easier for you in this article. We'll help you understand your website bounce rate, show you how to improve it, and perhaps increase your conversions as a result.
What is Bounce Rate?
A single-page session on your site is referred to as a "bounce," and your website bounce rate is the percentage of visitors who leave after reading only one page. These visitors "bounce" off your site after viewing only the first page.
One of five things can cause a visitor to leave your site:
Selecting a hyperlink from another website

Leaving your site by pressing the "back" button

Closing a window or tab on your page that is open

Entering a new URL

Being kicked out due to a session timeout
Your pages aren't working at their best if multiple site visitors arrive on your page and then leave without taking any of your conversion actions.
How to Reduce Bounce Rate?
Examine Your Most Popular Exit Pages
Look for the Exit Pages report in Google Analytics. By analyzing the bounce rate and exit rate on your most popular pages, you can reduce bounce rates. This information helps you determine how many people arrive directly on the page, how many arrive via internal linking, and which pages are the most commonly abandoned, allowing you to focus on the pages that need to be improved.
Make use of photos and videos
A high bounce rate indicates a site that isn't entertaining, however, photos and videos are proved to be appealing. Use the most attention-grabbing kind of media to counteract a page that isn't maintaining a visitor's interest. Short films and infographics keep your audience interested in your material and encourage them to stay a little longer (and maybe explore).
Improve the readability of your content
It may sound self-evident, but it's one of the most effective ways to reduce bounce rate and enhance conversions. Make sure that something as minor as too much content and a lousy layout does not turn visitors away.
Consider the following questions:
Does the headline have a big enough and bold enough font?

Did you make extensive use of subheadings?

Have you used bullet points to break up your text?

Have you used high-resolution photos or infographics?
This is also an excellent moment to consider font style and size, as well as the quantity of white space on your page.
Think about where you want your CTAs to go
A call to action (CTA) could be a simple way to reduce the bounce rate. Examine your call-to-action buttons with a critical eye, paying close attention to their placement on the page, copy, color, and size. Conversions can be boosted by attractive CTAs with engaging language or real value (for example, a free trial). The simplest solution isn't always the most effective.
Boost the Speed of Your Website
Your visitor makes up their decision about your website in a matter of seconds. They make their selection based on a number of elements, one of the most essential of which is the site's speed. It's possible that your pages are being abandoned because they're taking too long to load. You may use Google Analytics' Page Timings report to examine each page separately as well as your site's overall average speed. To get the most out of your efforts, start working on the sites with the highest traffic and the slowest load times.
We hope this post has answered your concern about how to lower bounce rates by providing a complete grasp of how to identify, analyze, and measure this difficult Google Analytics parameter. After you've completed your entire website assessment, you might determine that a total site revamp is the best course of action. After all, a high bounce rate can be caused by a variety of variables, and your problem could be caused by more than one.