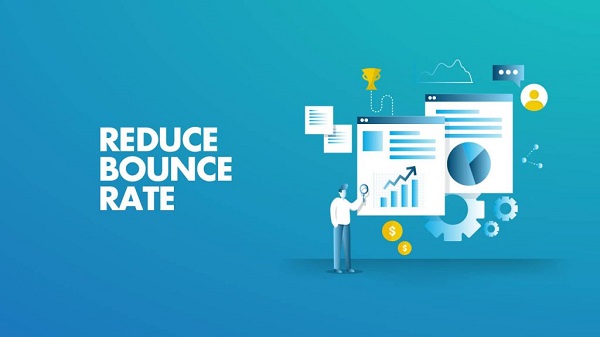 Your website visitor has one goal: to get in, obtain accurate and actionable information, and decide whether or not they want to build a relationship with your company. Is your website frightening away potential customers? The term "bounce rate" is used to describe how visitors behave when they leave your site too soon. It implies "I'm out of here!" in American slang. You want your guests to stay.
Here are some helpful hints for keeping your visitors interested in your content and increasing their trust in your company by average bounce rates:
Create Responsive and Sleek Website
Slow servers and clumsy, ugly designs cause users to abandon a website and go on to the next link on their search engine results page (SERP).
If you don't want to lose leads to your competitors due to a high bounce rate, your website load time must be swiftly and seamlessly adjusted to all mobile devices and aspect ratios.
Improve the user experience with straightforward navigation, and consider introducing personalization options based on user data to help steer visitors in the appropriate way.
Improve Website Bounce Rate by Turning Off Autoplay or Turning Off Your Audience
The sudden and abrupt sound of audio exploding from a newly launched website bothers site visitors more than anything else. The "X" on the upper right hand of your potential customer's window will be their first move, especially if they're browsing in public or at work.
Don't catch your visitors off guard. Give customers the option of using a click-to-play interface to play your video and audio files, and you'll improve the chances that they'll enjoy your material.
Text Walls Must Be Destroyed To Avoid Bounce Rates
The term "TL;DR" stands for "too long; didn't read," and Millennials aren't the only ones who disregard large, unorganized blocks of material. Your target audience expects to be able to browse through your content copy and get information that directly addresses their concerns.
Use appropriate subheaders and short bits of text to break up your text content.

To make your main points stand out and to reduce the exit rate, use bullet lists whenever possible.

Include a call-to-action (CTA) that directs your visitors to the next step (send an e-mail, make a call, or visit a page further down the funnel).In the opening third of your text, consider including a "small" CTA.

To add visual interest and "eye relief" to the page, include professionally shot images, relevant graphics, internal links, blog posts, and even professional video production components.
Consider the following formatting: Each section's header explains the content on this page. Allow the reader to "read deeper" into the information as they see fit, and make sure your headlines and subheaders match the substance – readers hate being deceived.
Make Use of the Appropriate Tone for Your Audience
Choose the right tone for your brand to make your content more relatable and avoid bounce rate.
Your target audience and user behavior will respond best if they can identify with the tone and language you employ to convey your message, which is referred to as "voice." However, keep it natural.
The forced use of colloquialisms is ingenious, and inventiveness equals deception. This is a wonderful time to emphasize the significance of knowing your audience. What is the optimal demographic for you? What are their top priorities, aches and pains, and buying habits? You must first determine who is listening before you can establish your voice.
Premature gating and excessive use of pop-ups should be avoided
Would you give a complete stranger your personal information?
Your guests will not, and neither will you. Before you "ask" for their contact information for an email list, make sure you give them free access to high-quality material so they can get to know your company. If you attract visitors to fill out contact information in exchange for "exclusive," high-quality, original content like video tutorials, white papers, coupons, and e-books, you'll obtain greater leads.
Pop-up ads, especially ones requesting information, must be discreet, or your viewers will swat those tiny "Xs" like insects. Avoid landing page pop-ups that take up the entire screen or hide important information.