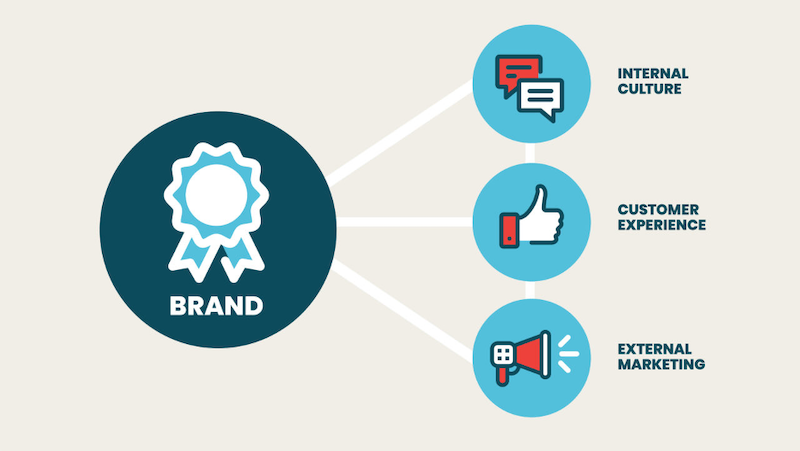 The marketing industry changes every day and thus applying a unique & effective brand building strategies is a must.
A brand is more than just a business name or a logo. Your brand is a guide that influences a person's purchasing decision; it is what people say about you even when you are not physically present; it is the perception that clients or customers have of your business, and it is the cognition that defines your brand & company as a whole.
Personal and professional development requires the development of one's brand. It not only raises a brand's voice and consumer awareness but also gives it uniqueness and value. With the advent of sharing and participatory platforms, many businesses now have the opportunity to increase brand awareness.
Because of the changing consumer environment, brand branding strategies and rules are evolving at a faster rate than ever before. The introduction of social media and the new mindset created by popular brands in the purchasing attitude has cast a new light on, and companies are thinking differently and engaging with their customers in new ways.
Many people mistakenly believe that developing a brand building strategies is as simple as designing a nice logo or coming up with a catchy tagline. Nothing could be further from the truth! In reality, your brand encompasses everything that distinguishes you from competitors.
Everything from your visual identity to your messaging to your customer experience should be considered. Not to mention how people perceive your company, including all of the thoughts and emotions they associate with it.
Because branding is so broad, developing a successful strategy necessitates both time and careful planning. Consider the following guidelines for developing an effective brand-building strategy for your company to aid in your planning.
Define Your Brand
This is the most important step because it determines what your brand truly stands for. You should create a checklist of your brand's core strengths while defining them.
At the same time, you further need to understand what your brand stands for and what values are imposed on your brand. Your values should in one way or another show that you are donating to the environmental, social, and economic well-being of consumers.
Carry Out Brand Research
It's a bad idea to create a brand strategy in a bubble. It's critical to understand how your competitors and other businesses with whom your audience interacts brand themselves.
Of course, you do not want to be a carbon copy. However, you can learn a lot from what works for them, how your audience reacts to different tactics, and even what your competitors aren't doing in terms of effective brand branding. Examining existing brands can provide you with both creative inspiration and strategic insights to help you stand out from the crowd.
Highlight What Distinguishes You
Even if your product or service isn't truly unique or one-of-a-kind, you can still stand out as distinct. How? One important factor is your brand messaging. You can personalize your brand strategy and differentiate your company by doing the following:
A personal mission and vision statement Core values that are at the heart of what you do and are shared by your customers.
A concise description of your one-of-a-kind approach to resolving a common problem.
A detailed explanation of how you solved an unusual but notable problem.
A focus on an unusual or unique feature of your target audience.
The one-of-a-kind customer experience you provide to your clients.
Think Of Your Business As A Person
Every person has a unique personality. So does every business. In both cases, though, not every personality is memorable. To avoid having a forgettable brand, consider visualizing your company as a person (real or imagined).
Consider this: If my company were a person, what kind of person would it be? What characteristics and traits would make it appealing, influential, or memorable? What would others say about their voice, tone, and style?
This exercise can help you visualize the aspects of your company that you want to highlight in your best brand building strategies and the excellent way to do so.
Create And Disseminate Your Brand
It takes time and consistency to develop a distinct and powerful personal or business brand. To build your effective brand, you must constantly reinforce your values and skills by taking on new roles and assignments that will expose you to more people.
You can also create a voice for your personal or business brand building by using promotional channels, blogs, forums, and social media (LinkedIn, Twitter, and Facebook).
When developing your brand, you should also strive to create brand personality (what people know, think, and say about you). This is what motivates people to identify with and interact with your brand.
Create A Memorable Customer Experience
Customer satisfaction is a great equalizer in business. Sure, a competitor may offer the same products or services at a lower price, but it won't matter if they treat their customers poorly or fail to address minor but significant details. People are willing to spend a little more money or time in exchange for a more enjoyable experience.
Furthermore, satisfied customers can act as mini-marketers for your company, spreading the word about their positive experience, writing customer reviews, and recommending you to others in their situation.
Plus, satisfied customers can become mini-marketers for your business, spreading the word about their positive experience, writing customer reviews, and recommending you to others like them.
Get Concerned Together Along With Your Network
Embracing your nearby network can do wonders for your business. People like to help nearby organizations and regularly make the aware desire to common them over big chains. Plus, in comparison to large companies, you are making it feasible for humans to position a face in your brand, making it extra attractive and human.
As you can see, brand building strategies is a continuous process. You must define your brand, differentiate it, present it, and periodically review what your brand stands for. It is critical to be clear about your brand branding strategies and how you intend to put them into action.
You should also implement brand building strategies that add value to your customers and assist them in developing a positive impression of your company/brand and what it truly stands for.