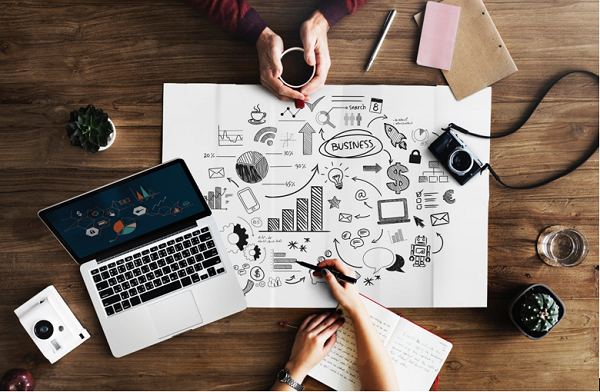 Do you ever get a feeling that every activity you have executed in your business thus far would have consumed less time and provided with better efficiency if you had the ideal business strategy with you?
Having a well-structured company strategy with you is the key to increased efficiency, market profitability, and customer pleasure. In the foreseeable future, recognizing the importance of strategy will help your business become more stable while also safeguarding it from potential threats.
To enable enterprises in gaining greater insight and vision of an all-inclusive business strategy, we've compiled a list of 4 perks that strategic planning offers.
1. Optimization of Efficiency
A strong strategic approach would involve goals such as developing the proper solutions, distributing them on a fixed schedule, and resolving client queries through effective back-end operations.
You can better allocate the assets and analyze them with a solid strategy and aim in hand, ensuring that productivity is increased and inefficiency is eliminated. You can even use performance indicators and strategic benchmarks to track your company's growth and improvement.
2. Increasing Market Saturation
 Effectively making use of data analytics technologies can help products & solutions last longer in the market competition. Analytical solutions can indeed help to improve the rhythm of commercial activities. A deeper understanding of a product's retention period, combined with improved protocols for delivering it to the correct site, can increase the overall yields if you go by a well-executed business strategy.
Companies can gain valuable insights into market dynamics, target customers, and buying attitudes and behaviors of the consumers- all of it just by formulating and delivering a specific business strategy, one that suits your work ethics.
3. Refines Your Perspective
A strategic framework for your organization aids in developing achievable targets and objectives, that are in keeping with the mission and vision laid out for it, as well as creating a sense of competence and defining the path in which a business must proceed. It also establishes the required basis and parameters for allocation of resources and efficient decision-making in a variety of areas, from recruiting and budgeting to filtering your business strategy and associated performance operations.
4. Increases Long-term Viability of Business
Your company can better understand the actual market equilibrium across industries by carefully deploying appropriate tools and methodologies. This consistent policy will not only help to simplify the management program but would also aid in the identification of the variables that will enable the brand and its solutions to remain relevant and sustainable for a long period.
A good business strategy produces stability as a byproduct. In a virtual economy, companies must always adjust to the newness and change.  Strategic planning's objective is to establish possible local and global disruptions and equip the company to adjust more efficiently in real-time. Organizations without a proper foundation, commitment, and vision will face troubles in overcoming the future shocks, as economic indicators and client needs are continuously shifting. Making your content and products more smartphone-friendly, for example, can improve overall audience engagement and outreach. Furthermore, this will assist you in spreading your wings to more contemporary & trendy social media platforms like Instagram and LinkedIn
Hereby, we can see how a clearly delineated strategy can help businesses to focus on marketing a specific product to a specific target, allowing the service to remain much more pertinent. The importance of strategy in any firm cannot be underestimated. In a nutshell, firms that would like to thrive in the dynamic marketplace must strategize their decision-making operations.
 ABOUT US
Strategizing is essential for your business's growth. If you also wish to transform your company and lead it to success, get in touch with 'Business Solution'. We are known for helping business owners design success for their companies. For more information about us, contact us at 8006800658, or fill the contact form.